Harker Family Orchard, Inc is a small orchard and vegetable farm just 3 miles from I-74 between Greensburg, IN and Shelbyville, IN.  Homegrown produce available for sale in season.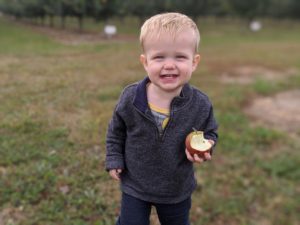 To find out what is currently available check our Facebook page for the latest updates or see our expected availability below. Please note:  Peach season starts usually around the first of July and ends in early September.  The peak of the season is late July through mid August so don't wait too long to get larger quantities of peaches.

All members of the family help at the farm at some point during the year, truly making it Harker Family Orchard.  Some of the grand-kids are old enough to drive and work at markets on their own now.  So when you see us at a farmer's market or when you stop at the farm stand, you will be talking to at least one member of the family.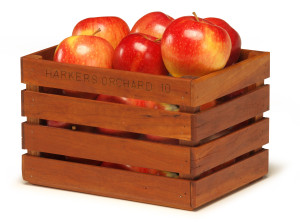 2022:  The weather has been kind this year so far.  We will have many peaches and apples to sell as well as plums and nectarines.  We had many sweet cherries in June, but they are mostly gone now.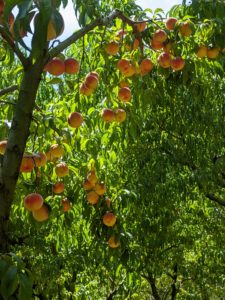 What to expect at our orchard:  We have a simple operation of selling our produce.  You can park near our little orchard stand and make your selections from coolers and shelves.  Most of our produce is ready for you to "grab and go" and we have a locked payment box available in case we are not there to assist you.  We have a working crop farm as well as the orchard, and there are often tractors moving about the property that we feel it would not be safe to allow customers to be in the orchard.  Our fruits and vegetables are handpicked by trained pickers, sorted and packaged for your convenience.
You can find us regularly at several farmers markets including Binford Farmers Market, Garfield Park Farmers Market, 38th & Meridian Farmers Market, Irvington Garden Club Market (2nd Sunday of the month) and Shelbyville Neighborhood Markets (sponsored by MHP).  Watch for updates about the markets on our Facebook page.
| | |
| --- | --- |
| Strawberries |  Mid May thru Mid June |
| Cherries (sweet & tart) | Mid June thru Early July |
| Black Raspberries | Mid June thru Early July |
| Red Raspberries | Mid June thru August |
| Cucumbers | Early June thru July |
| Zucchini | Early June thru July |
| Cabbage | Early June thru July |
| Tomatoes | Early July thru September |
| Sweet Corn | Early July thru September |
| Early Apples (Lodi & Pristine) | Early July only |
| Peaches | July thru August |
| Nectarines | July thru August |
| Apricots | Early July (if they make it) |
| Plums | July thru August |
| Blackberries | July thru August |
| Apples | August thru Early November |
| Apple Cider (fresh pressed at our orchard) | Late August thru October |