Joe & Debbie Harker, owners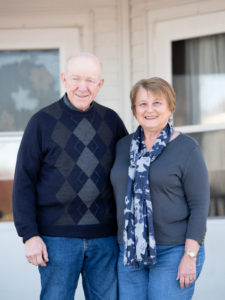 Married in 1969 Joe and Debbie began farming at this location in 1976 after each received Master's Degrees from Purdue University.  Joe's degree is in Ag Education and Debbie's degree is in Speech Pathology.  Debbie worked as a speech therapist in schools for nearly 30 years and has now retired.  As soon as they moved to the current farm, they planted their first sweet corn patch and garden.  Continuing to raise sweet corn to this day, the varieties planted are continually re-evaluated to find the sweetest corn we can find available. Dinner table conversations focus on which variety at that meal is the best and should be planted again.  They have also sold sweet corn and other produce at the Shelbyville Farmer's Market and the house since 1976.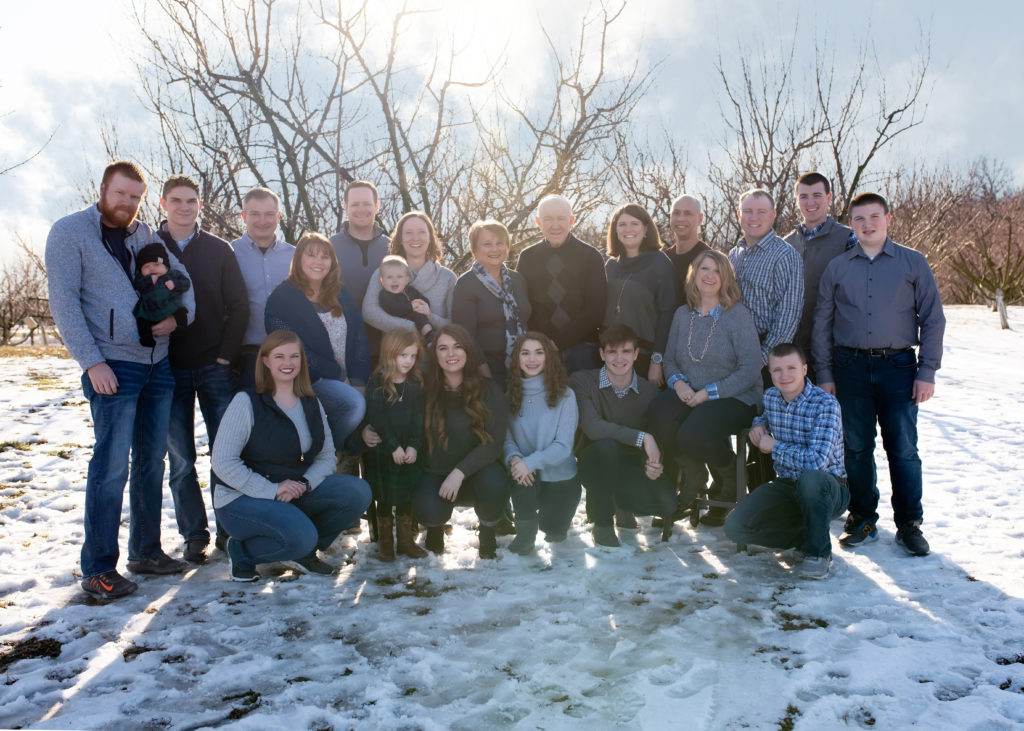 Farm & Orchard transition:  
While raising their 4 children, Jeff, Brian, Julie, and Michelle, the farm was a 200 sow hog operation.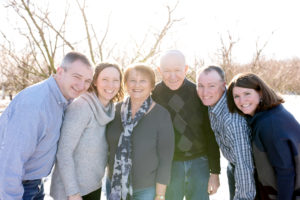 In 2009 the first part of the orchard was planted and in early 2010 the hogs were all sold.  More fruit trees have been planted every year since 2009, which now totals nearly 2000 fruit trees in the orchard.  60% of the trees in the orchard are peach trees, which represents over 90 different varieties.  The orchard is also home to over 60 varieties of apples as well as plum, cherry, nectarine, and apricot trees.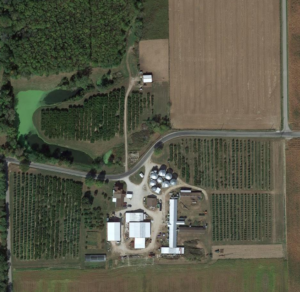 The orchard's first year of full production was 2012; however, 2012 proved to be a difficult year for orchards across Indiana due to a late frost and summer drought. 2013 told a different story for the orchard, with a bumper crop of peaches, nectarines, plums, apples, and apricots being harvested.    Once again Indiana weather hurt the orchard in 2014 with a record setting cold winter the peach trees did not produce any fruit and the other fruits were not as plentiful. 
It is a difficult business and the family strives to provide fresh produce at all times without compromising taste.  With all the varieties of fruit it is hard to keep up, but the family attempts to try all varieties before selling them.  If you ask members of the family, each will have their own favorite variety of peaches. We have a passion for sweet, fresh produce and will work to bring that to our customers on a daily basis.  
In addition to the fruit trees and sweet corn, the family works to plant their vegetable garden at the earliest time possible to provide a full fresh produce experience at the farm stand.  The garden varies each year, but usually includes tomatoes, green beans, onions, zucchini, cucumbers, potatoes, eggplant, peppers, lettuce, asparagus, and broccoli.  The farm is also home to a large strawberry patch as well as black raspberry, red raspberry, blackberry, gooseberry, and grape vines.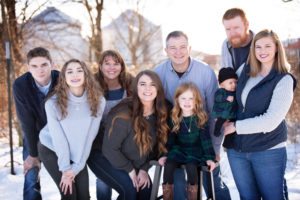 Jeff is the oldest of the 4 children and helps at the orchard when he can.   He earned his Doctorate of Veterinary Medicine from Purdue University and is a partner at Swine Veterinary Services in Frankfort.  He lives with his wife Traci and 2 of his children, Matthew and Amelia, in Michigantown.  Daughter, Kathleen Jackson graduated from Purdue and is a 5th grade teacher.  Along with husband, Alex, they have 2 children Aida and Dalton. Daughter, Sarah Harker and her daughter Libbi live in Clinton County as well.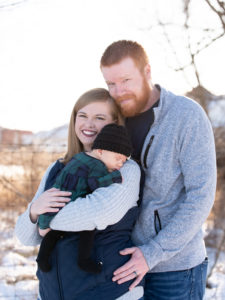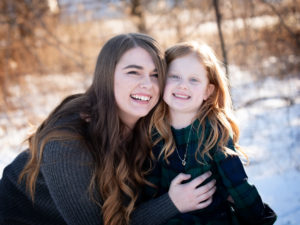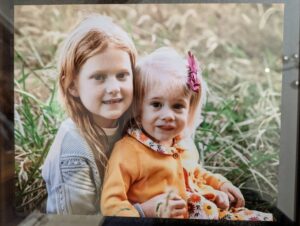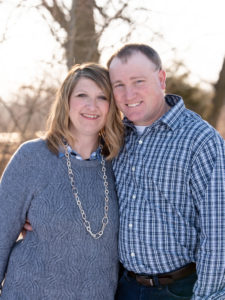 Their son Brian earned a Bachelor's Degree from Purdue University in Ag Systems Management and works full time at the orchard. Brian does many jobs at the orchard from mechanic to most of the planting and harvesting. If you've had our sweet corn then he probably pulled it as he can carry 3 dozen at a time and is the most efficient at picking.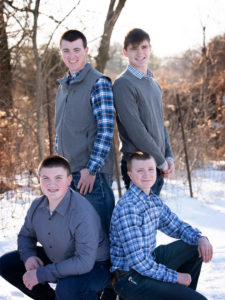 Along with his wife Cherri and 2 of his sons, Tyler, and Jacob, he lives in the home where Debbie grew up that is on the south edge of the farm. His son, Brice and wife Eliza held their wedding reception at the orchard in September 2021. They now raise some pigs in the pig buildings at the orchard after earning their Bachelor's Degrees from Purdue. They also have their own farm not far from the orchard with son Briant and another child on the way. Son, Dylan graduated from Franklin College (BS) and Miami University of Ohio (MS). He works as an actuary and is engaged to be married in June 2024.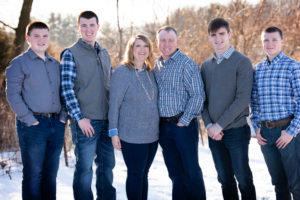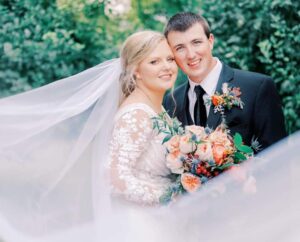 Julie has been nicknamed "Peach Girl" by many of her friends as she works many farmers markets and even sold to her co-workers at Hamilton Southeastern High School where she teaches Computer Science and is the Head Girls Track Coach.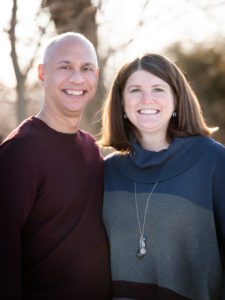 She ran track and earned her bachelor's degree at Indiana State University and also received a masters degree from Indiana University in Indianapolis.  With her computer background, Julie created the website and tracks inventory.  She lives with her husband, Dmitri, in Fortville.  He has also been drafted to work farmers markets when he isn't busy playing music with one of his bands.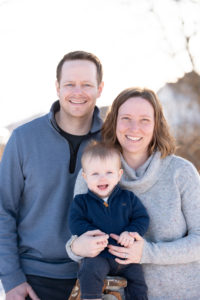 Michelle is the baby of the family and could be considered the director of marketing even though she currently lives in Chapel Hill, North Carolina.  She earned a Doctorate of Audiology from Ball State University and works for Phonak as a clinical trainer.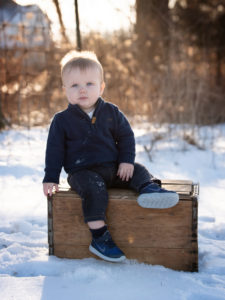 She is married to Jeff Wiebke and they have a son Oliver and daughter Iris.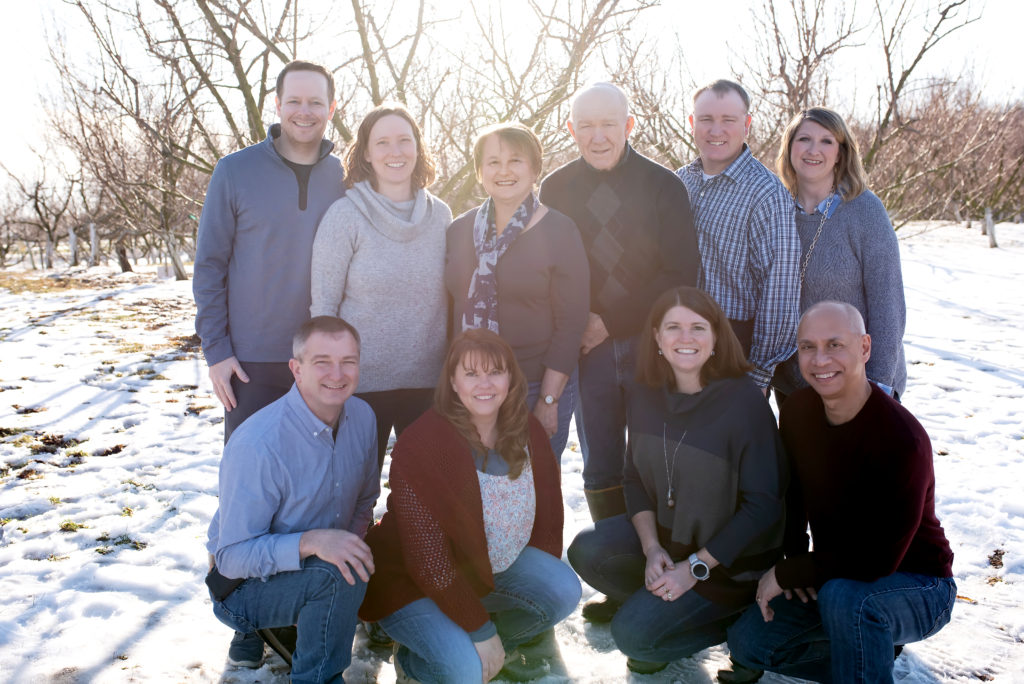 All photos from December 2019 taken by Kami Laux Photography