How to peel peaches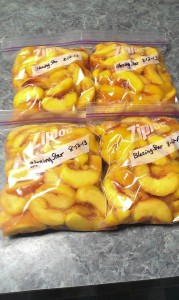 Bring a large pot of water to full boil.  Dip peaches in the boiling water for 1 minute. (I use a wire basket.)  Remove from boiling water and cool in cold water.  Peel should slip off easily of ripe peaches.
Peach Batter Cake
2  c. sliced peaches
Juice of ½ lemon
¾ c. sugar                               
3 T. butter
½ c. milk              
1 c. all purpose flour
1 t. baking powder        
¼ t. salt
Line well greased 9X9 inch pan with peaches.  Sprinkle with lemon juice.  Cream sugar and butter together.  Add milk alternately with dry ingredients.  Spread batter over peaches.
 Topping:  1 c. sugar     
                 ¼ t. salt
                 1 T. cornstarch           
                 1 c. boiling water
 Combine dry ingredients and sprinkle over batter.  Pour boiling water over batter and bake for 1 hour at 375 degrees.
Check out Julie making some recipes on Indy Style TV from August 20, 2021
Harker Farms shares recipes using Indiana-grown peaches: Peach Batter Cake, Caprese Salad with Peaches – WISH-TV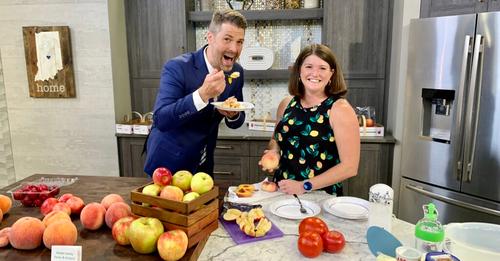 Peach Dumplings or Peach Enchiladas 
2 whole large peaches
2 8 oz cans crescent rolls
2 sticks butter
1-1/2 cup sugar
1 tsp vanilla
cinnamon, to taste
1 1/2 cups orange juice or 1 can of lemon lime soda such as Mountain Dew.
Peel and pit peaches. Cut both peaches into 8 slices. Roll each peach slice in a crescent roll. Place in a 9 x 13 buttered pan. Melt butter, then add sugar and barely stir. Add vanilla, stir, and pour entire mixture over peaches. Pour orange juice around the edges of the pan. Sprinkle with cinnamon and bake at 350 degrees for 40 minutes. Serve with ice cream, and spoon some of the sweet sauces from the pan over the top.
6 apples, pared, cored and quartered
¼ cup water 
In 2 quart casserole place apples with water.  Cover.  Microwave at high 7 to 8 minutes, until fork tender.
 ½ – 1 cup sugar
1/8 teaspoon salt
1/8 teaspoon cinnamon (optional)
Into blender container place apple mixture, sugar, salt & spices.  Blend until smooth.  If a blender is not available, mash with potato masher or put apples through a ricer.  (Early apples may not even need to be mashed, or blended.)
6 cups apples, pared, cored and sliced
¾ – 1 cup brown sugar (packed)
In  8 in. square dish place apples and sugar
½ cup unsifted flour
1/3 cup brown sugar (packed)
1/3 cup quick cooking oats
¼ c. butter
½ teaspoon cinnamon 
With pastry blender mix flour, sugar, oats, butter and cinnamon until crumbly. Sprinkle over top of apples. Microwave at High 9 to 12 minutes.  Let stand a few minutes before serving.
1 – 9 inch pie crust
¼ peck tart cooking apples
1 ½ cup sugar
¼ cup flour
1 teaspoon cinnamon
Mix sugar, flour & cinnamon in small bowl.  Spread about 1/3 of sugar flour mixture in pie crust.  Peel, core and quarter apples.  Fill pie crust with quartered apples.  Sprinkle the rest of the sugar and flour mixture on top of apples.  Dot with butter if desired.  Cover pie with aluminum foil and bake in hot oven – 400 degrees for 45 minutes.  Remove foil and bake 10 – 15 minutes longer.  (Early apples will not hold their shape and will bake down to a soft consistency.)  The apple filling will get sweeter as the pie cools.  If the apples are very tart, you may want to increase sugar to 2 cups. Also, you may adjust cinnamon to your taste (I like a lot of cinnamon).
Berry Crumble
3 cups raspberries or blackberries, fresh or frozen
2 T Lemon juice
2/3 cup packed brown sugar
1/2 cup all-purpose flour
2/3 cup quick cooking oats
1/3 cup margarine, softened
3/4 t ground cinnamon
1/4 t salt
Spread berries in 8×8 glass baking dish.  Sprinkle with lemon juice.  Mix brown sugar, flour, oats, margarine, cinnamon, and salt; sprinkle on top.  Microwave uncovered on high until berries are hot and bubbly, 7-10 minutes.  Let stand 10 minutes on heatproof surface.  Serve warm with ice cream.
4 cups zucchini, cut into chunks, about 2 medium zucchini
1/2 medium onion thinly sliced
4 eggs beaten
1 1/2 cups shredded cheddar cheese
1 jar pimento, drained
1/2 t salt
dash of pepper
Place zucchini and onion in 2 qt glass dish; cover with plastic wrap, turning one edge back to vent.  Microwave on high for 7 minutes, drain.
In large bowl, mix eggs, cheese, pimento, salt, and pepper.  Add zucchini and onions, stirring well.  Grease dish in which vegetables were cooked.  Pour mixture into dish and cover with paper towel.  Microwave at medium-high 8-10 minutes; removing paper towel after 4 minutes.
1 thinly sliced, unpeeled zucchini
4 slices american cheese
1 sliced tomato
1/2 onion, sliced, separated into rings
1/4 chopped green pepper
1/4 can mushrooms
1-2 T garlic powder
1-2 T oregano
1/4 cup shredded mozzarella
1 cup buttered bread crumbs
2 T Parmesan cheese
Preheat oven to 350 degrees.  Layer zucchini (sprinkled with salt), american cheese, sliced tomato, onion, green pepper, and mushrooms in casserole dish.  Sprinkle with garlic powder and oregano.  Layer with shredded mozzarella cheese, then sprinkle with bread crumbs.  Sprinkle Parmesan cheese over bread crumbs.  Bake covered at 350 degrees for 30 minutes, then remove cover and bake an additional 30 minutes.
APPLE FRITTERS
 2 c. self rising flour
 ¾ c. white sugar
2 c. tart apples, chopped into ¼ inch pieces (dried on paper towel)
1 tsp. cinnamon
 ½ tsp. nutmeg
 Mix together then add:
 2 eggs 
2 T. butter 
 1 c. apple cider   
 Drop by tablespoons into hot oil & flatten out to fry evenly.   
ICING: 
 2 c. powdered sugar 
 Nutmeg 
 Cinnamon 
 Apple cider  
Mix cider with powdered sugar & spices until thin enough to "drizzle".  Drizzle over warm fritters.
Caramel Apple Dip
Ingredients
1/2

 

cup

 

salted butter

1 1/2

 

cups

 

light brown sugar

3/4

 

cup

 

light corn syrup

1

 

can

 

14 ounces sweetened condensed milk

1

 

teaspoon

 

vanilla
Instructions
Melt butter in a medium saucepan on low heat

Add your brown sugar and corn syrup, combine and stir allowing sugar to dissolve and caramelize with the butter- watch carefully as can burn fast

Add the sweetened condensed milk and heat till just slightly bubbling

Remove from heat add vanilla and stir

You can serve immediately (VERY HOT) or place in a small crock pot set on low or warm

Serve with apple slices
Cucumbers and Onions
1 long slicing cucumber
1 small onion
1/2 cup vinegar (white or apple cider)
1/2 cup sugar
1/2 water
Slice cucumber and onion. Mix vinegar, sugar and water thoroughly. I use a Tupperware shaker to mix this. Then pour over the cucumber and onion until just slightly covered. Serve immediately or store in refrigerator to marinate. My family likes them best fresh, but some people like them better after they marinate awhile.
Creamy Cucumber Salad
2 small cucumbers (or 1 large)
2 medium red onions
1 tablespoon parsley
½ c. mayonnaise (or Miracle Whip)
1 t. lemon juice
½ t. sugar
Slice cucumbers, onions and parsley.  Add mayonnaise, lemon juice and sugar.
Toss well. 
Sweet Cherry Jello
1 box Black Cherry Jello
1 cup of sweet cherries
1 8 oz. can crushed pineapple
½ cup chopped pecans
Prepare jello as directed on package. Cool in refrigerator for about 1 hour, then add in the fruit and nuts. 
Refrigerate until jello is set.  
Notes:  If you can't find black cherry jello, cherry jello can be used.
You can use fresh cherries, or thawed frozen cherries. 
To make a "richer" salad, you can substitute vanilla ice cream for the water in the jello. 
Cherry pitter available at Walmart.com